Allen Cagle,
Lead Pastor, Elder
Allen has been the Lead Pastor at Sunrise since January 2013. Before that, he served in associate pastor roles at Christ Fellowship Baptist Church (Mobile, AL) and Grace Community Church, (Los Angeles, CA). He received his MDiv from The Masters Seminary (2005) and a DMin from Southern Seminary (2017). Allen and his wife, Mindy, have 3 children, Kate, Jacob, and Karis. Allen loves the outdoors — especially fishing, reading, and spending time with the family.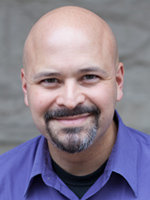 David Champagne, Associate Pastor, Elder
David Champagne began serving as our Associate Pastor in April of 2019. Before joining the staff at Sunrise, he served as Nocatee Campus Worship Pastor for First Baptist Jacksonville. David's desire is simple; to see people grow as worshipers of Jesus Christ in every area of their lives. He holds Bachelor and Master of Music Performance degrees from the University of North Florida and is a member of the Association of Certified Biblical Counselors. David and his wife Jody have four children; Emma, Molly, Arith, and Anne.
Adam Mersereau has been a member of Sunrise Community Church since 2009, and has served on the board of Elders since 2012. Adam enjoys teaching the Scriptures and assisting others in learning to teach. He and his wife Kristen, and their daughters Emma and Mary, have lived in the Beaches area since 2008. Adam is a corporate attorney with a private practice in Ponte Vedra Beach.
Branan Woodham, Vice-Chairman
Branan and his wife Jeffie have been members of Sunrise Community Church since 1990. Over the years at Sunrise he has served as a Deacon and on the Elder Board as Chairman, Treasurer, and now Vice Chairman. He has invested time and study into biblical counseling and teaching during our adult Equipping Hour and also works with the worship team assisting with sound and video. Branan is now retired from a career in sales and higher education administration.
Mike has been member of Sunrise since 1988. He has served on the Board of Elders since 2014 and also serves on the Worship team on vocals and guitar. He is thankful for the the way the expository bible teaching at Sunrise has helped him to grow as a follower of Jesus Christ. His career is in the insurance and financial advising industry. Mike and his wife Barbara have two adult children and five grand children in the Orlando and Jacksonville area.
Byron Isaacs has been a member of Sunrise Community Church for almost 20 years and has served on the board of Elders since January 2013. Byron enjoys studying God's word, assisting with sound for worship team and church service and other church duties as needed. Byron and his wife Sheila have been married for 38 years.
Ty and his family began attending Sunrise Community Church in 1996. Through the years, he has served as a teacher, deacon, treasurer and elder. He has a heart for encouraging others in their growth in Christ. After he served in the U.S. Army for 22 years, Ty and his family moved to Jacksonville Beach where he worked as the public works director for 22 years. He and his wife, Linda, have two children and five grandchildren.
Leslie Wise,
Children's Ministry Coordinator and Office Manager